AI week 2022 Virtual Event: 5000 Participants From 75 Countries
Leading experts from academia, industry and government participated in the successful 3-day conference
The AI week 2022 by the ICRC in collaboration with TAD center, gathered 5,000 participants across 75 countries. More than 85 leading experts from academia, industry and government, and many members of TAD center, participated in the successful 3-day virtual event demonstrating breakthroughs and innovations in AI and its applications to many fields.
Jack Hidary, Head of Sandbox, delivered the opening keynote on AI in the quantum age, followed by two additional keynotes - Prof. Lior Wolf (Computer Science and TAD's management) on Explainable AI and Dr. Amitai Armon (Intel) on AI Innovations and their Intel Applications.
The event included a special joint session by TAD center and Google as part of the AI4Good collaborative initiative, focused on health. Dr. Debby Cohen (Senior Research Scientist, Google) and Dr. Shiri Stempler (Director of Collaborative Research, TAD) moderated the session, which included speakers from both TAD and Google, showcasing advances in the fields of AI and Health.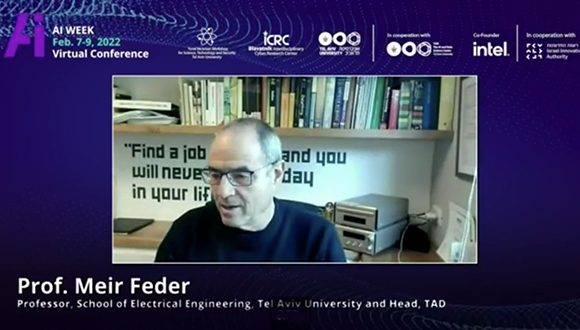 ​​
The session included two keynotes:  
Prof. Meir Feder, (Electrical Engineering & Head, TAD), Tel-Aviv University AI Center in Health and Biomed.
Prof. Yossi Matias (Vice President of Engineering & Research, Google), Advances in Health AI.
Talks by TAD members:
Dr. Daniel Nevo (Statistics) on Causal inference for infectious diseases.
Prof. Noam Shomron (Medicine) on AI applied to genomics.
​Talks by Google:
Naama Hammel, MD -  Retinopathy Screening.
Dr. Andrew Carroll - deep learning and genomics.
Dr. Regev Cohen (Verily IL) shared recent results in medical imaging.
Prof. Ron Shamir (Computer Science) moderated the additional session on AI and Health, with talks by Dr. Kira Radinsky (Diagnostic Robotics), Prof. Yonina Eldar (Weizmann), Dr. Amihai Painsky (Industrial Engineering, TAU) and TAU graduate students: Edo Dotan and Noa Cahan.
​
Prof. Saharon Rosset (Statistics, and TAD management), moderated the Deep Learning Theory session with talks by Prof. Abba Krieger (University of Pennsylvania), Dr. Ilya Sutskever (OpenAI), Prof. Elad Hazan (Princeton), and TAU researchers Dr. Roi Livni (Electrical Engineering) and Dr. Nadav Cohen (Computer Science).
Dr. Moni Shahar (Scientific manager, TAD) moderated the Natural Language Processing (NLP) session. Prof. Hayit Greenspan (Biomedical Engineering) moderated the AI & COVID session.
Additional members of TAD which participated in the event:
Prof. Irad Ben Gal (Industrial Engineering, TAD management) on using AI tools for smart transportation analytics, Prof. Raja Giryes (Electrical Engineering) and Prof. Shai Avidan (Electrical Engineering) on vision, Prof. Jonathan Berant (Computer Science), Prof. Dino Levy (Management), Prof. Yuval Shavit (Electrical Engineering) and Dr. Dan Yamin (Industrial Engineering).
A partial list of sponsors: Intel, PayPal, Toga Networks, Earnix, Elbit Systems, TCS Research, Google, Amdocs, Meta, Lightricks, Applied Materials, and Pagaya.
The TAD team thanks all the speakers, moderators and participants for this successful event!
Lectures are available in this link: https://aiweek2022.b2b-wizard.com/expo/agenda